Job Posts
You've got needs, and we've got options. With two glass slippers to choose from, you'll find your fit with our ads. We recommend our seven day Help Wanted ad to advertise for those positions you still need to fill before opening your doors for the season, mid-season attrition, or late season hiring. The 30-day Highlighted Job ad allows you the time it takes to find your puzzle piece applicant for that specific position that requires a more dialed-in skill set or experience level. Read more.
Example
Nourish and Support Our Camp Community with Your Delicious Food!
Help Wanted Ad
Advertise multiple jobs in one post.
This all-purpose and dynamic 7-day ad allows you to advertise multiple openings, plug an upcoming job fair, send fresh traffic to your employer profile, or simply kick off a general recruiting push. It's lean, mean, and works magic.
7 days:

$129.00
Highlighted Job
Advertise an individual position.
Have a seasonal or year-round position that calls for a specific skill set or a more experienced candidate? This 30-day ad gives you the extra time it can sometimes take for that perfect fit to find you!
30 days:

$129.00
Ad Packages
We offer the following discounts on pre-purchased job posts:
25 – 50 posts:

10% Discount

50+ posts:

15% Discount
If you're interested in purchasing an Ad Package, email us at help@coolworks.com or call (406) 848-2380, and we'll be happy to help you get started!
Non-Profit Discount
We are proud to support the efforts being performed by non-profit organizations. To show our support, we offer a 10% discount** on Highlighted Jobs and Help Wanted Now Ads for any 501(c)(3) Organization that posts their opportunities on CoolWorks. To qualify for the discount, send your IRS issued Exempt Organization Affirmation Letter to help@coolworks.com, and we will apply the discount to all future listings.
**This discount does not apply to Enhanced Employer Profiles, Featured Listings/Profiles, or Staffing Center subscriptions. This discount can not be combined with other offers, such as package discounts, promotional discounts, or ACH / Net 10 / Net 15 discounts.
Enhanced Profile
It's not just another ad - it's the full monty! Advertise all of your available positions, paint the picture of your employee's experience, communicate your company's values and expectations, outline the high points of your ideal candidate and illuminate the uniqueness of your culture. The profile works wonders because it provides job seekers the ability to determine if they'll be well suited to join your team. A good match leads to happy employers and employees. If you've got recruiting to do, this is your shiny storefront window to pull in those future all stars. Read more.
Pricing
1 month:

$250

3 months:

$450

6 months:

$600

12 months:

$1000
Example
Make memories of a lifetime while living and working on our historic Wyoming guest ranch!
Featured Listings
A Featured Listing puts your Employer Profile, Highlighted Job, or Help Wanted Ad front and center capturing more attention and boosting your traffic.
An enhanced and prominent visual ad that includes your logo, a photo and promo copy
Increases traffic and response to your Employer Profile or job ads
Prime placement on the CoolWorks home page and at the top of all applicable category, job type, and search result pages
Runs for 7 days
Pricing
One week:

$159
Staffing Center
There was a time that being a recruiter meant that you were perched in the center of towering stacks of paper, and required an array of post it tabs, highlighters, and some serious filing and organizational powers. Well no more! Have you ever wondered how much more time would I have to find that superstar applicant, if I weren't battling this paper tiger obstacle course? Well say hello to your new best friend, the Staffing Center. Our web-based applicant tracking system is your solution for effortlessly managing your Employment Application and Screening Process.
Find out more about the staffing center and request a demo.
Employer Resources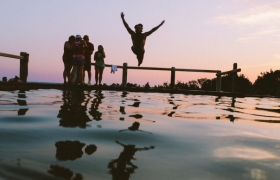 For Employers
Your recruiting materials should describe your staffing needs, requirements, and expectations. Equally important, it should illustrate what the job seeker can expect from the experience. One of the top questions a job seeker has while reading your Profile is: What's it like to work and live there?
Find more great tips in our Employer Resources section.
About CoolWorks
We're a well-traveled team of seasonal work explorers. We've worked our way up the ladder from entry level front lines to upper management. We've been HR pros since 1995, and our experience has taught us that great places lead to great experiences. We love the opportunity to get to know about each new employer, your opportunities for our job seekers and hear about your Great Place. And if you're a self-serve kinda person, not really into the talky-talky, just want to post your jobs and move on, we make that easy for you too. Read more.
Contact Us
Need assistance or have any questions? We're here to help!
Email us:

Call us: